Alpha Grandview - LOCATION
Alpha Grandview now stands magnificently in the midst of the dynamic and fast-paced Bay area in Malate. Its contemporary design spells an active cosmopolitan lifestyle that will excite the spirits of the 21st century. 

Strategically located in the heart of Ermita's tourist area, Alpha Grandview Condominium offers you the advantage of being near wherever you wish to be...... shopping centers, restaurants, movie houses, schools, casino, discos, art galleries, banks, medical center, yatch club, golf range, sports centers, Luneta, Walled City of Intramuros, etc......because you deserve to experience life's finest pleasures, Alpha Grandview is the place to be.
Alpha Grandview stands in magnificence in the middle of the Bay Area in Malate. This area is known to be fast paced and dynamic. Residents staying in Alpha Grandview can immerse in that bustling community but still get to enjoy a place of solace within their reach. The contemporary design of this residential condominium tower fits right in with the modern and cosmopolitan lifestyle that Alpha Grandview was envisioned for. Hence, you can lay back and relax in the peace and quiet of your condo unit while also enabling you to join in on the action when you want to.
Malate is a district of the city of Manila, which, together with Ermita, is known as a hub for commerce and tourism. During the time of the Spaniards, Malate is a small fishing village. By the end of the Second World War, Malate suffered damage to a great extent. Many of the wealthy families that were displaced during the war returned to their homes and rebuilt everything. Since then and until the 1970s, this area is mostly purely residential. But after the 1970s, the area underwent major transformation as residential apartments, hotels, restaurants, and cafes begun showing up.
During the 1980s, the landscape of Malate changed some more. It became known as an entertainment center with disco bars, boutiques, and novelty stores opening its doors for business. Today, it is classified as a middle-class area with several dormitories, apartments and houses that co-exist with all of the commercial establishments and businesses.
Due to its central location, Alpha Grandview quickly garnered attention. It gives the residents of this condominium the advantage to be where they need to be within just minutes! If you are looking to do some shopping, there are plenty to satisfy your retail urges in the area. Harrison Plaza is one of the first modern shopping centers to be built in Malate. There are a few other newer and modern shopping centers to choose from like Robinsons Place Manila, Shopwise, SM Mall of Asia, and Bellagio Square.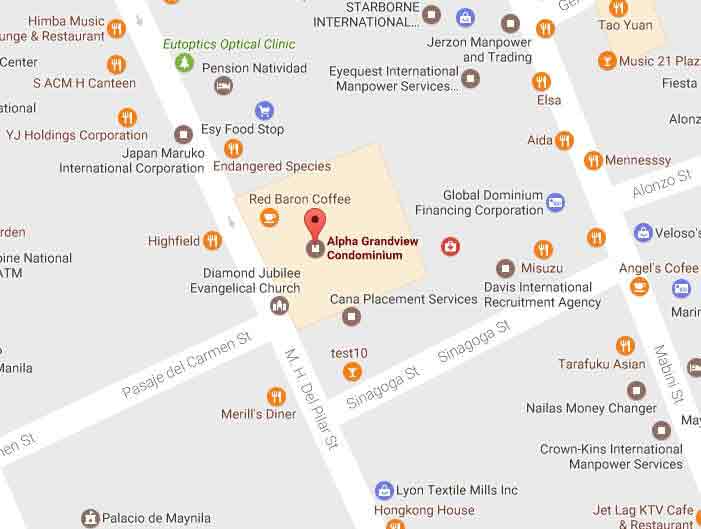 The Alpha Grandview condominium is equipped with modern amenities for your leisure and recreational needs. However, there are also plenty of tourist attractions and landmarks around it for you to explore. The first sports stadium in the Philippines, Rizal Memorial Sports Complex, is located near Malate. In addition, the country's largest zoo is also located nearby: Manila Zoological and Botanical Garden. Since the Manila Baywalk area was launched, there are more dining options and tourist attractions within the area. One example is the newly renovated Plaza Rajah Sulayman. Meanwhile, the Cultural Center of the Philippines Complex is also part of this district in Manila.
If you are looking to explore more of the attractions near Alpha Grandview, the long list continues. Here are a few more options for you to check out: Remedios Circle, Rizal Park, San Agustin Church, National Museum of the Philippines, and Paco Park and Cemetery. You can also explore on foot and find many restaurants located within a few blocks from Alpha Grandview. Some of the ones to add to your list include Purple Yam Malate, Ang Bistro sa Remedios, 8065 Bagnet, and Cowboy Grill.